Lily Lake Battery Energy Storage
About the Project
Peterborough Utilities Inc. (PUI) and Enfinite (Project Team) are proposing the development of a Battery Energy Storage System (BESS or Energy Storage) project on its property which hosts the 10 MW Lily Lake Solar Farm. This project is responding to a growing need to increase capacity to meet future electricity requirements in Ontario as requested by the Independent Electricity System Operator (IESO) through the Long Term 1 Request For Proposal (LT1 RFP) program. PUI and Enfinite are both Qualified Applicants in the LT1 RFP.

Who we are?
PUI is a local generation company, owned by the City of Peterborough, providing energy services and generation from renewable resources like solar and waterpower in the Peterborough area since 1975. We are committed to providing safe and reliable generation to our community.

Enfinite is an energy storage solutions company based out of Calgary, Alberta, developing and operating innovative new methods of power generation and storage to support a smooth transition to a net zero power grid. We are the largest battery storage operator in Canada with six operational projects totaling 210 MWh of energy.

What is a Battery Energy Storage System?
Energy Storage Systems help support Ontario's clean electricity grid by drawing and storing energy when the demand for electricity is low and there is excess generation, and then delivering that energy back to the grid when the demand for electricity is high.
Improves the utilization of variable power like wind, solar and run-of-river hydro
Increases the capacity needed to meet Ontario's growing electricity needs
Improves grid reliability and reduces the impact of outages on the network
Proposed Project
The project will be at 394 Lily Lake Road, co-located on the property used for the Lily Lake Solar Farm in the Township of Selwyn, outside the City of Peterborough.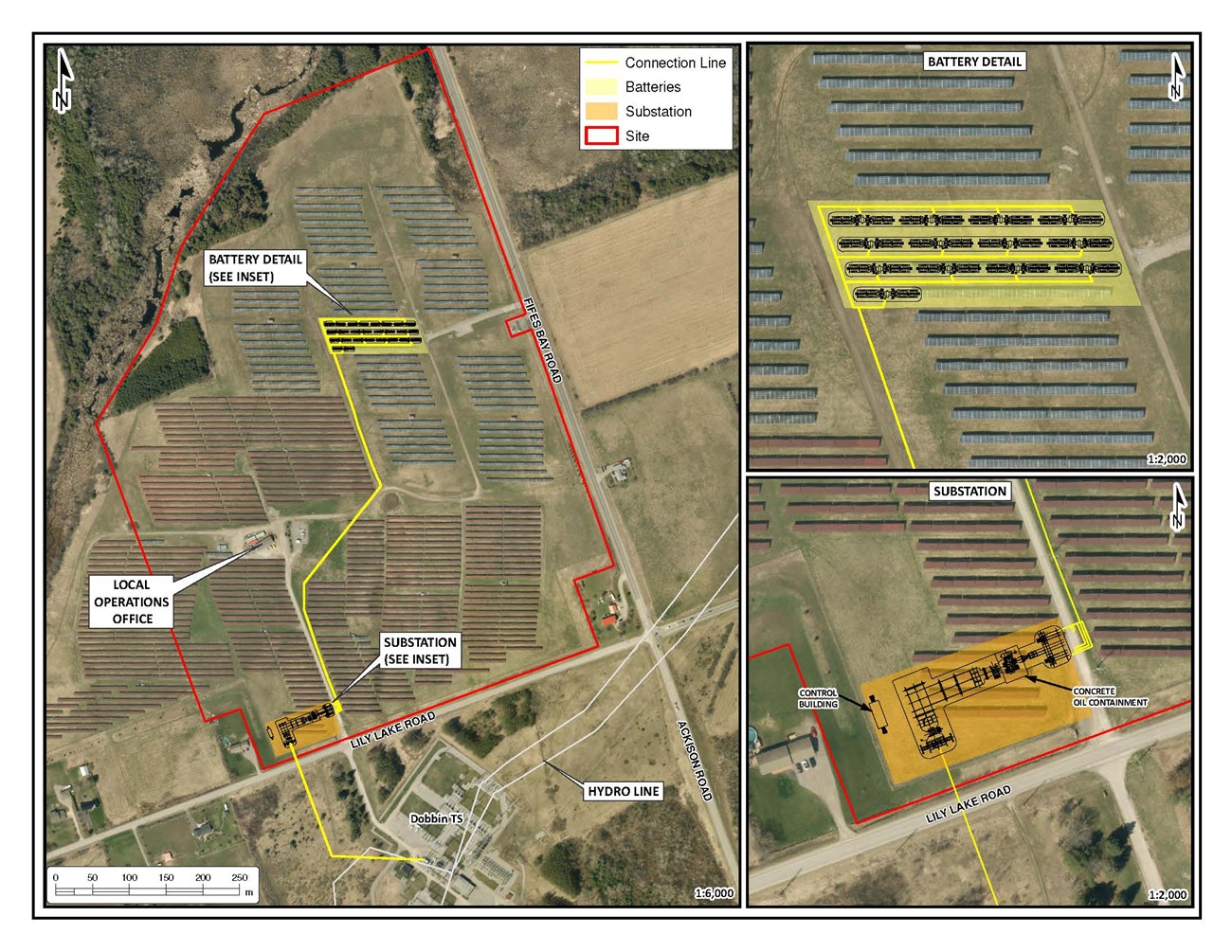 50 MW project capacity delivering four hours of continuous energy (200MWh).
Occupy up to 4 acres for Energy Storage components and power equipment
Connect to Hydro One's Dobbin Transformer Station (Dobbin TS) located across the road from the project property minimizing the impacts associated with grid connection.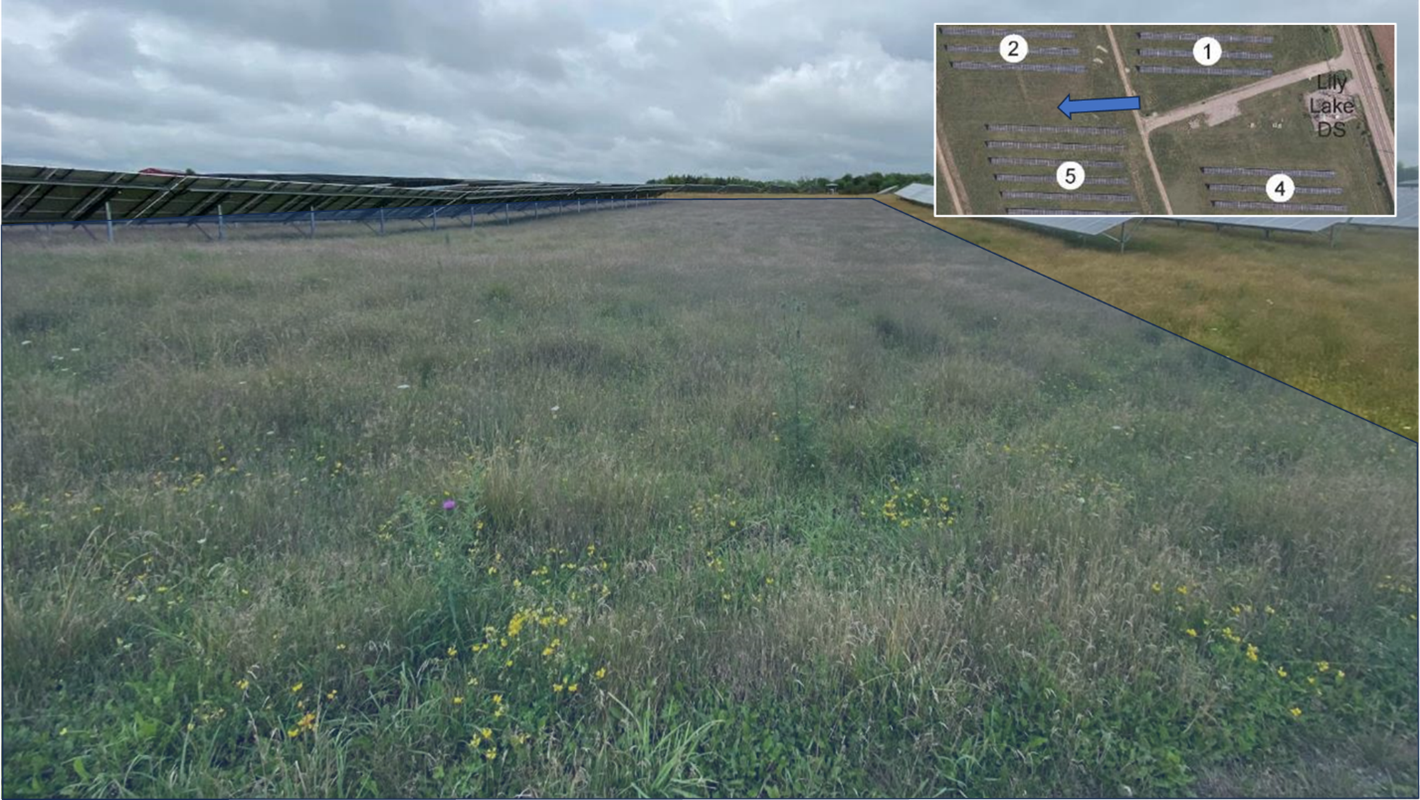 The Deliverability Test (an IESO assessment to determine if the proposed Energy Storage project can connect to the electricity system) has shown that there is available capacity at Dobbin TS to connect this project. Detailed design will consider additional connection impact assessments with Hydro One.

Community Open House
We hosted a community information session on October 30th from 6pm to 8pm at the Bridgenorth Community Hall, located at 836 Charles Street in Bridgenorth. The minutes of the meeting are attached.

Consultation
A Community & Indigenous Engagement Plan has been developed for this project which outlines the approach for communication important information about the project. The Project Team will provide information on upcoming meetings through this website, as well as through our Facebook and X (Twitter) accounts.


Schedule
The Project Team will submit the LT1 RFP application by December 12, 2023. The target date for notice of award to successful proponents will be June 30, 2024

If the Project Team is awarded a contract for the project, the project is expected to be in operation by May 2028. The plant is expected to operate for at least 20 years.

Frequently Asked Questions
What are you proposing to build?
The Project Team is proposing to install a battery energy storage system on available lands within the 10MW Lily Lake Solar Farm that PUI has operated safely since 2011. This project will be 50 MW providing four hours of continuous power (200 MWh) each business day, using up to 4 acres for the batteries, substation and supporting components.
How will this benefit our community?
Improves local grid reliability and resiliency
Creates opportunities for local employment and services
Generates local tax revenues and dividends
What are the environmental benefits?
Clean non-emitting resource, reduces reliance on natural gas plants
Reduces energy loss and waste
Avoids the need to build major transmission upgrades
What are the environmental considerations?
The project will be located within the existing solar farm, with the battery components located away from any sensitive water features. Studies will be completed to review the new equipment, which will influence the final design and location of the project as needed. If a contract is awarded, the project will require a Minor Class Environmental Assessment for the substation, which will also include the Energy Storage components. It may also include a development permit with the Otonabee Region Conservation Authority.
What are the noise considerations?
The noise is generated by the HVAC systems for the battery packs, fans for the inverters and the transformer equipment. Studies and mitigation measures (where required) will be implemented to ensure no adverse impacts on the adjacent lands or surrounding areas.
Are batteries a fire hazard?
Lithium-ion batteries are commonly found in many electronics and electric vehicles today and are a safe and reliable form of delivering electricity. Tier 1 suppliers include safety at all levels of design and production and are equipped with a sophisticated Battery Management System (BMS) which can detect potential issues early on and allow operations staff to address the issue in a timely manner. The Project Team will incorporate international standards and best management practices, and work with the local fire departments to educate them about the technology and coordinate a plan in the unlikely event of a fire.
If the project is approved, when will it be built?
Contract award is expected June 30, 2024
Detailed design, permitting and procurement will take up to 2 years
Construction will take up to 12 to 16 months
The milestone date to be in operation is May 2028
Will there be another opportunity to provide comment or feedback on the project?
Questions or comments on the project can be directed to Paul Ernsting
There will be ongoing community and Indigenous engagement and consultation through out development process. Should the Project Team be successful in obtaining a contract, additional meetings will be held to solicit feedback.