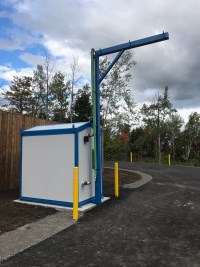 Peterborough Utilities Commission has installed a new bulk water fill station at 280 Milroy Drive to replace the existing station located at 1867 Ashburnham Drive. The new station offers both a 2" diameter overhead fill (similar to existing station) as well as a 3" diameter side fill. In addition, a large cul-de-sac has been constructed to increase vehicular safety while using the station.
Additional Details
Old station at 1867 Ashburnham Drive closed
New Station Located at 280 Milroy Drive.

open to public
operate 24 hours per day, 7 days per week.
cost $3.00 per cubic metre of water dispensed.
have the ability to dispense water at 0.1 cubic metre increments.
accept Visa, Mastercard, Visa Debit, and Mastercard Debit only as payment methods. Cash is not accepted.
prepayment of a minimum $1000.00 is available below. For new Customers, PUG staff will contact you via phone to confirm details and issue a PIN access code and equipment number.