Your safety is important to us.
Peterborough Utilities Inc. (PUI) operates several hydroelectric stations and dams. Most of these facilities are remote controlled. Water can move quickly through our stations and then suddenly be moved to the dam. This can be very dangerous if you're standing near the water's edge or downstream of the dam.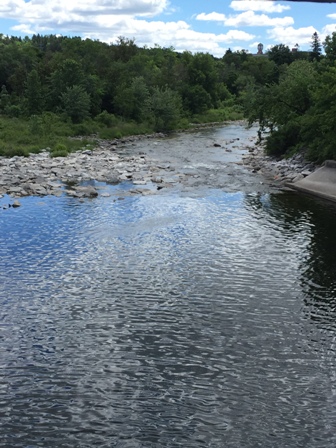 These photos are taken at the same location on the river only a few minutes apart.
Note the abrupt change in conditions downstream of the dam.


Please don't think of our generating stations as a fishing hole, or a place to do your kayaking. And please don't swim upstream or downstream of our stations.
Please consider your safety around our facilities.
Signs
We have installed signs to identify areas where it is unsafe to be. It is very important that you read, understand and adhere to the messages on these signs.
Water safety...what you need to know
Stay out of river beds below dams. They may be dry, but that can change in a matter of seconds if the dam gates open.
Obey the warning signs.
Stay a safe distance away from warning signs, fences, buoys, booms and barriers.
Be alert for changing water levels and stay away from the river's edge.
Don't step out into moving water.
When swimming, fishing, boating or paddling in a river, be aware of changing water levels and flows. If you see a change, get out of the water, or move away from the area.
Your kids...don't take your eye off them!
When you're around water, teach your children about the safety measures that are in place. Explain what the signs, fences, booms and barriers mean. Tell them where they can and can't go.
And finally, make sure that you can see them at all times.
Did you know?
Trespassing on PUI property is illegal. The police and Ministry of Natural Resources and Forestry (MNRF) can lay charges. This is only being done to ensure your safety.
What's all that noise? What do the flashing lights mean?
In addition to the physical barriers (fences and booms) that have been put in place, PUI has also installed horns and flashing lights to warn you of changing water levels and flows. Sorry for the racket, but we're doing it for your safety.